BIM (Building Information Modelling) & Smart Cities
Category: Blog
Added: 7 April 2021
Reads: 0
The digital transformation striking around the globe is also an important factor facilitating new developments in construction business. BIM, also known as Building Information Modelling, is one the new generation methodologies facilitating the transformation in this field.
What is Building Information Modelling?
BIM technology is a process that digitally supports building design, construction and operation stages. This new theory that emerged in 1970s is based on three dimensional models of construction costs, time schedules, energy supply, fire protection, lighting and site management data as well as geometric data required for buildings. BIM process is generally facilitated based on 4 main principles, namely digital twinning, simultaneous planning and modelling, project management with accurate data and life cycle.

Advantages of Building Information Modelling
There are many advantages of using BIM processes both in general structure applications and prefabricated buildings. These are in summary:
Helps Capturing Reality
Project starting activities practices in the recent years include; laser scanning, aerial viewing, capturing reality in the most accurate way to organize project preparations. Designers can benefit from all inputs combined and shared in a model thanks to BIM. Building information modelling contains much more information that drawing sets that offer an opportunity to describe project organizations. Furthermore, BIM drawing tools are much faster compared to 2D drawing tools. Prefabricated structure projects created using BIM technology can be managed as early as in operating phase, hence enable governing of all processes not only in construction stage but also afterwards.

Ensures Control
Digital model based work flow chart included in BIM process has features such as project histroy links and auto-save, thus each action performed on the model is recorded, enabling viewing in the future. Since the project is linked with the history, file corruptions or losses that may reduce productivity are eliminated. Building information models allow sharing, which makes cooperation and digital work flow easy. Coordination among architects, engineers, contractors and sub-contractors working in each stage of prefabricated structure as well as other professionals on site is increased. Hence, results can be monitored digitally before a problem arises, allowing immediate solutions.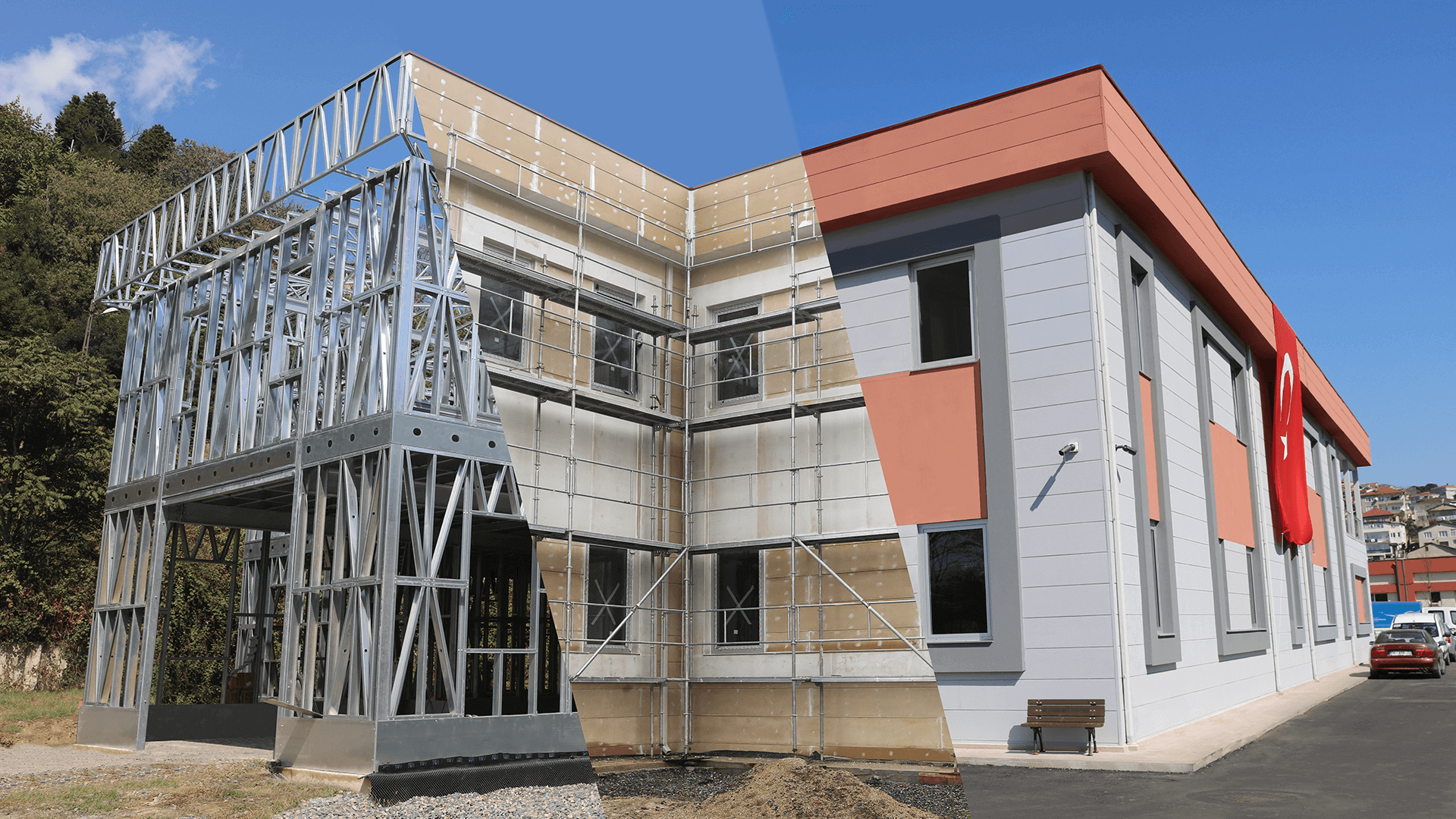 Facilitates Simulation and Visualization
Wide use of simulation tools in the recent years is enabling digitalization of building energy performance by designers. BIM enables a variety of analyses and models to leverage achieved performance to top level. Using BIM, an identical digital twin of the prefabricated projects can be analyzed. BIM not only creates a 3D modelling but also ensures managable project development. If all project stakeholders are involved in the process, format IFCs and conflict tests can be applied in a sound manner, and problems can be solved before they occur.
Enables Sequential Application
BIM prepared using animations eases coordination of the setps taken in construction process and in the subsequent processes, enabling achievement of desired results in a sequence. Furthermore, it helps sharing of the process data with the project team in detail.
BIM is the most advanced communication tool that enables sharing of the steps taken in the project as well as their results with the projct team. 3D visualization of the design in building information modelling process is an effective method that facilitates sales, obtaining necessary licenses and hence achieving the highest performance.

Enables Access At Any Time
BIM is connected to a database, therefore it is easily accessible at any time. Thanks to cloud system, BIM and project details are accessible from any device and location. BIM system also eases construction site process monitoring, hence prefabricated structure designs can be simulated and viewed as early as in project phase.

Contributes to Prefabrication
One of the main benefits of BIM is that increasing use of prefabricated building models. This is an important outcome that increases productivity in construction business. Prefabricated and modular structure preference can be expected to increase in the upcoming years with wider use of BIM.
Use of BIM for prefabricated structres eases prefabrication coordination process, reveals the potential at various levels. Prefabrication is also an instrument that helps building Smart Cities, reduces extra costs and accelerates approval processes. Our company closely follows changing trends in the detailings of modelling system, and we are ready to provide you with information on the topic at any time. You may right away contact Prefabrik Yapı, the leading company in the field, closely following technological developments.