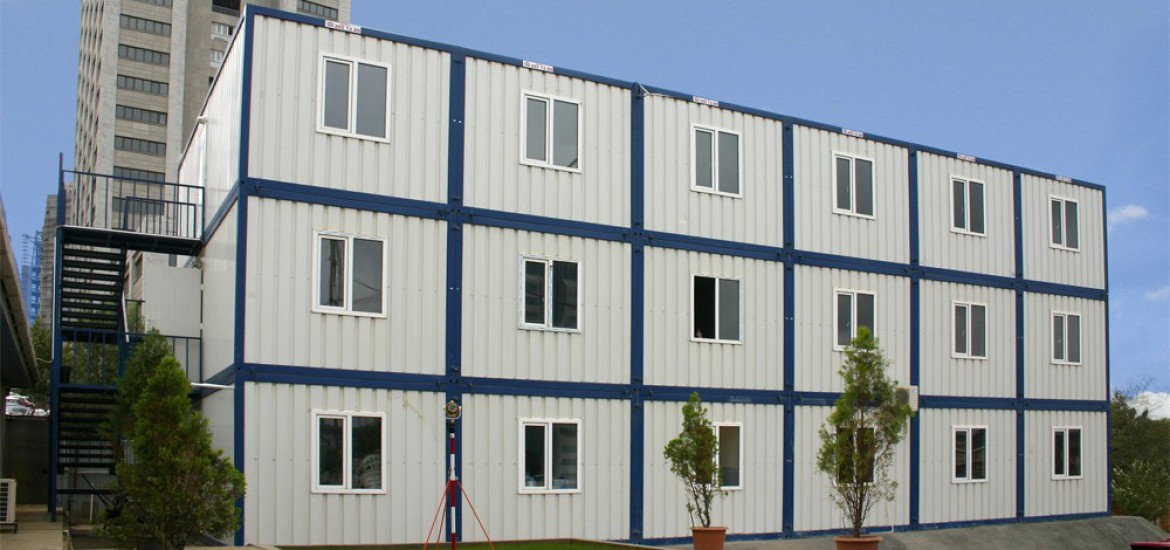 Containers, pretty much one of the symbols of the construction sector, are used to provide for various needs because of their features of fast assembly, floor framed structure and multiple use. Leading the way are construction site mobilizations. Office, dining hall, dormitory, WC-shower containers needed in setting up a construction site are some of the examples. Aside from this, containers wholly produced in factory environment are also essential products of immediate settlement requirements.
The containers that we produce with weldless production technology can be manufactured as one storey, two storey and three storey according to its place and intention of use.Painted galvanized steel sheet or A-1 class noncombustible Hekimboard brand plates produced with fiber cement technology are used in accordance with our clients preference.
Aside from our standard sizes of 3,00×7,00 m and 2,40×6,00 m, special sized container production is also performed according to the demand of our customers.
Our containers are produced as Hekim Panel or Hekim Classic system in monoblock, demounted or interlocked container systems according to its place and way of use. Electrical and sanitary installations are optionally designed as flush mounted or surface mounted. Pitched roofs are also used in situations requiring additional roof, aside from standard flat roof applications.
Circumstances to be Aware of
Make sure leveling of the ground is smooth where the container shall be placed. Otherwise you can experience problems in the way door and window profiles work. It should be made sure main frame is fully supported on the surface where container stands.

Container should be tied to 2×2 cm. eyebolts on the upper corners and lifted and lowered by crane as can be seen in the figure.

Lashing should be crosswise as in the figure. Lashing lengths should be equal and its horizontal angle should not be less than 20° (36% slope).

Hook should be clasped from the wider surface and it should be shifted towards the heavier side to be in balance, then it should be lifted.

The container should be put on a smooth and balanced surface (concrete etc.) or on wedges spaced 2,5 meters maximum and are in the length of the head, to extend the life of the container.

Comfortableopening and closing and locking of the door must be checked.