Duplex prefabricated house solutions; It is a practical and easy structure where its components are manufactured outside the place of installation and assembled in a place where it is to be used. Prefabricated houses are frequently preferred by those who want to become a home owner without too much trouble, the companies and governmental institutions who want to use it as an office and work place.
The reason for this is that prefabricated buildings are safer, more economical, long-lasting and assembled quickly compared to the classical buildings. Prefabricated buildings are usually mounted on specially poured concrete.
With the development of light steel technology, it is now possible to obtain prefabricated buildings consisting of more than one storey and thus duplex prefabricated house applications have emerged. In this way, people who want to use prefabricated buildings as houses or offices can prefer two storey duplex prefabricated houses if they wish.
What are the Advantages of a Duplex Prefabricated House?
Duplex prefabricated houses are easier to install and economically way longer life than conventional concrete houses.
Duplex prefabricated houses can be designed and used for all kinds of purposes and land. You can customize your duplex prefabricated house according to your needs and easily reflect your style with small design details.
Prefabricated houses provide much better results in terms of acoustic and thermal insulation compared to normal structures and offer maximum energy efficiency.
In addition to all of that it is also resistant to fire more.
In short, the most important reasons for choosing a duplex prefabricated house are that they are comfortable, safe, economical and long lasting.
Prefabrik Yapı A.Ş., with its duplex prefabricated house models, satisfy all your expectations and offers quality and comfortable structures.
What should be considered when buying a duplex prefabricated house?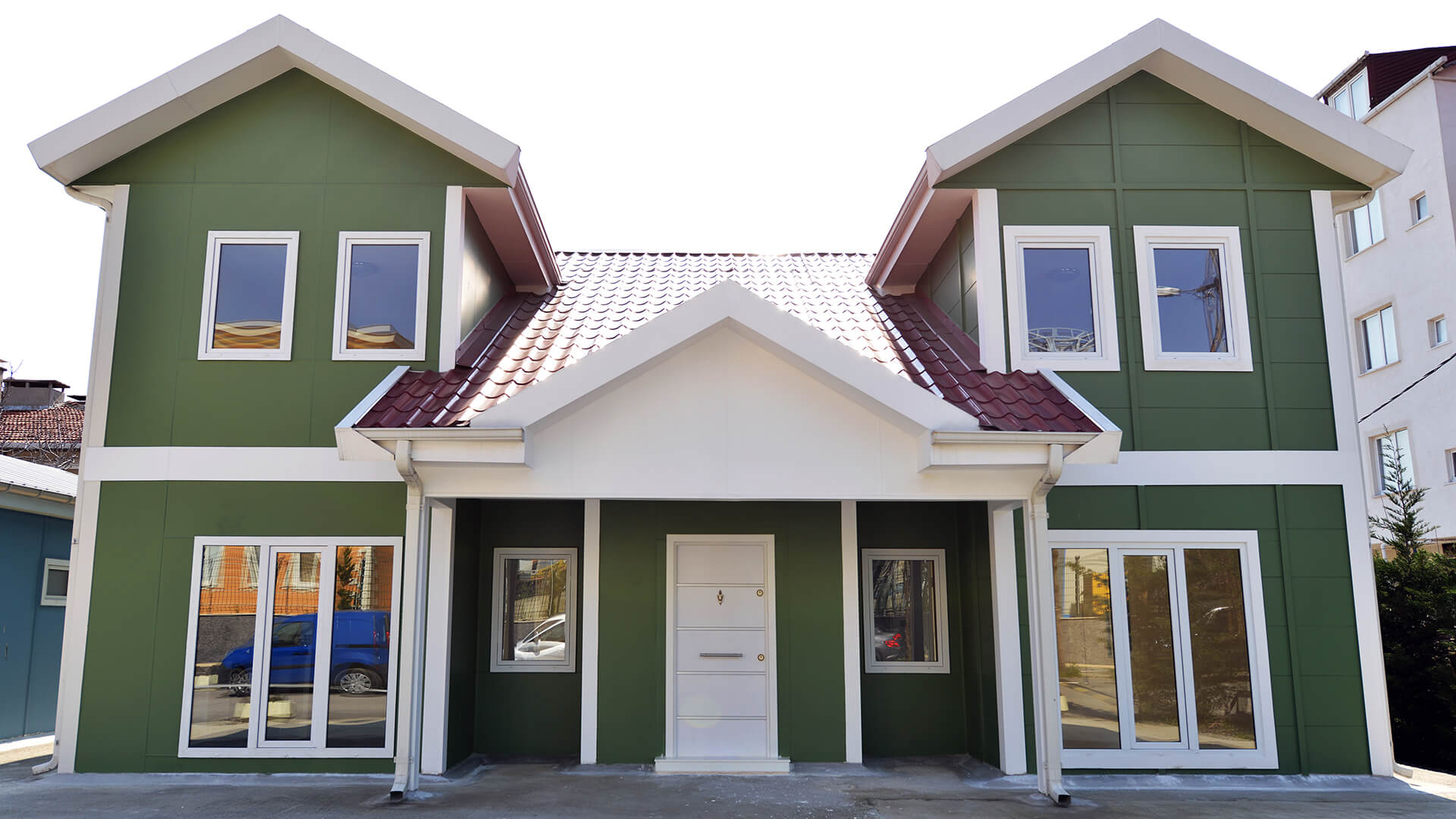 As with the reinforced concrete buildings, prefabricated buildings have safety and quality standards determined by the state as well. First of all, when buying a prefabricated house you need to pay attention to whether it meets such standards.
In addition, before you buy a prefabricated building, you should choose the right model by taking into consideration such points as your purpose of using the structure, the characteristic of the land you will use and the infrastructure status of the area where the duplex prefabricated house will be located. When choosing your duplex prefabricated house model, it is also of great importance that you use a model of sufficient size suitable for the needs of your family.
After deciding the house of your dream, the rest is easy! Prefabrik Yapı A.Ş. will design your duplex prefabricated house meticulously and in such a manner that all aesthetic details are considered; and will install it much faster than traditional buildings. What is left for you is just to enjoy your new living space as a whole family.